In this tutorial we will create a pattern that you may use to change the color or even the fabric on a full perm mesh template. The example used is Meli Imako's Rigged Mesh Slit Down Long Dress available here.
Download the PNG files from Second Life.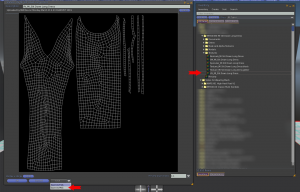 From your Second Life inventory, open the texture: UV_MI_Slit Down Long Dress.
Save as PNG to your hard drive.
Repeat with the texture: SM_MI_Slit Down Long Dress.
Open the 2 PNG files in Photoshop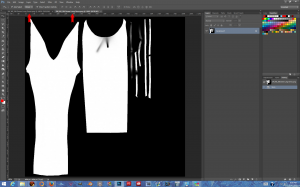 Open both files in Photoshop. They will show on separate tabs.
Combine the 2 PNG files into 1 file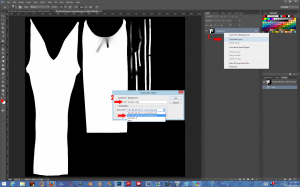 In the Shadow Map file,
1 right click the layer, select Duplicate Layer…
2 Name the layer and copy it to the UV Map file.
3 Close the Shadow Map.
Create Layer for Pattern/Color Changes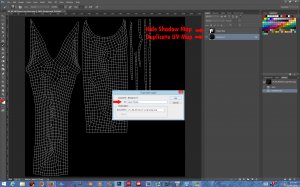 1 Hide Shadow Map Layer
2 Duplicate UV Map Layer (Background)
3 Name the new layer.
Prepare New Layer for Layer Styles – Clean away Black Background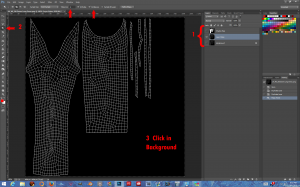 1 Hide all but the new Layer.
2 Activate Magic Wand set for Low Tolerance and Contiguous.
3 Click in background area.
4 Press Delete.
Invert Selection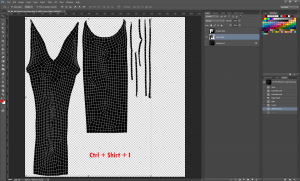 Invert the Selection, Select, Inverse or Ctrl + Shift + I
Fill Selection with Solid Color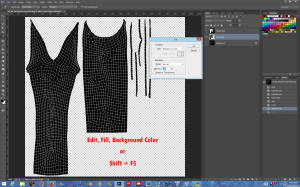 Edit, Fill, Background Color,
OR
Shift F5, Background Color.
(You may use any color, it won't show on the garment.)
Set Up Color Layer Styles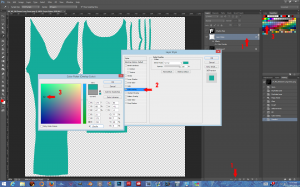 With Layer Styles active:
1. Double Click where shown by arrow OR Click Fx at bottom.
2. Select Color Overlay
3. Pick Color in window OR from Swatches
Shadow Map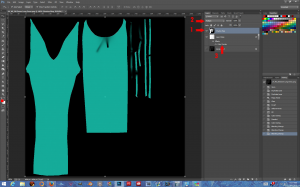 Select Shadow Map Layer. Unhide it. Change from 'Normal' to 'Multiply.'
To change color, simply Double Click "Color Layer" to open the Layer Styles Window.
The file is ready to upload with the new color.