Even though an Alpha Mask garment came with your mesh template, it is more professional to create one that shows your name as creator.  This tutorial will show you how to create that garment, and how to custom fit it.
Create Alpha Mask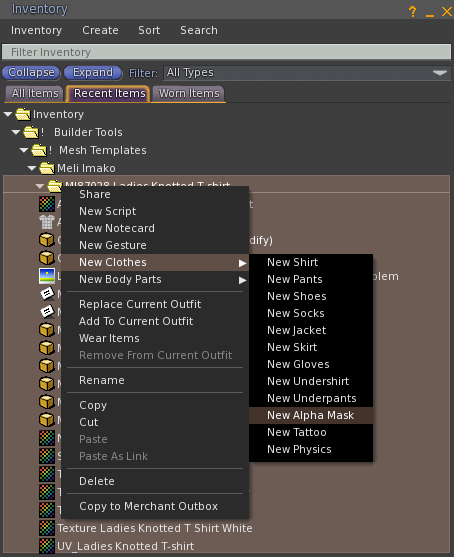 Right click the folder in which you want the Alpha Mask created, select New Clothes, New Alpha Mask. Give it a name. Double click to wear it.  (You won't see any change to what your avatar is wearing at this point.)
Apply Alpha-Mask Textures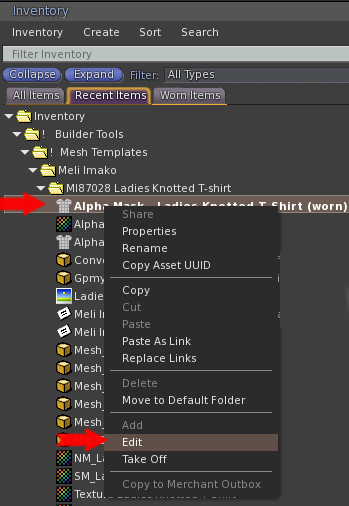 Right click the garment in the Inventory window, and chose Edit.
Apply Alpha Mask Texture in Edit Window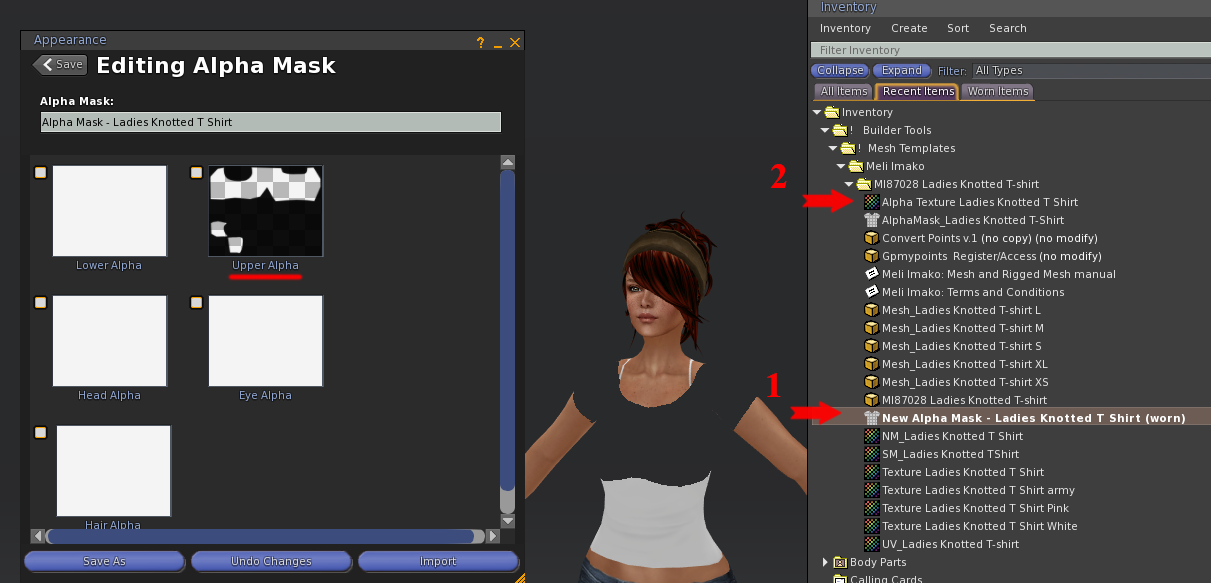 1. Right Click and Edit the Alpha Mask garment (worn). The window on the left will open.
2. Drag the Alpha Mask texture to the proper window. Click to Save the garment.
Notice the area that has been 'masked' on the avatar.
Test Fit the Mesh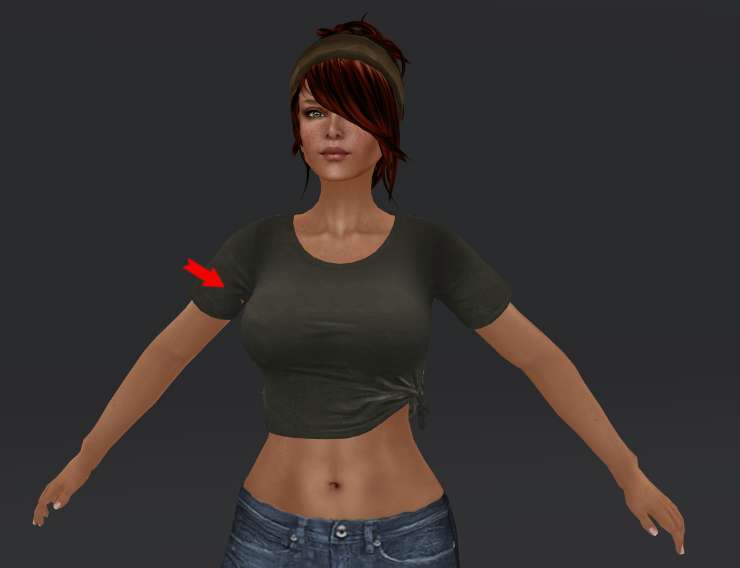 Notice the bit of skin poking through on the bottom of the arm. Use camera controls to view from all angles. Let your avatar move freely, with your Animation Override on, watching for more problem areas.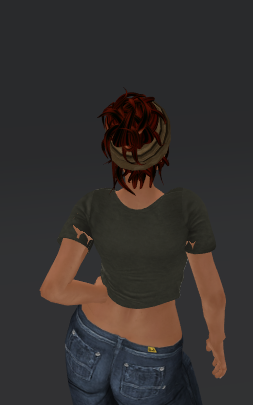 There are still more problems on the back of the sleeve.
Create a Garment Using the SLUV Map
We will use a garment created from the SLUV map to use to identify the areas that need to be fixed.
Robin Wood has provided this one for your use.  You can download it at: http://www.robinwood.com/Catalog/Technical/SL-Tuts/SLPages/AVUVTemplates.html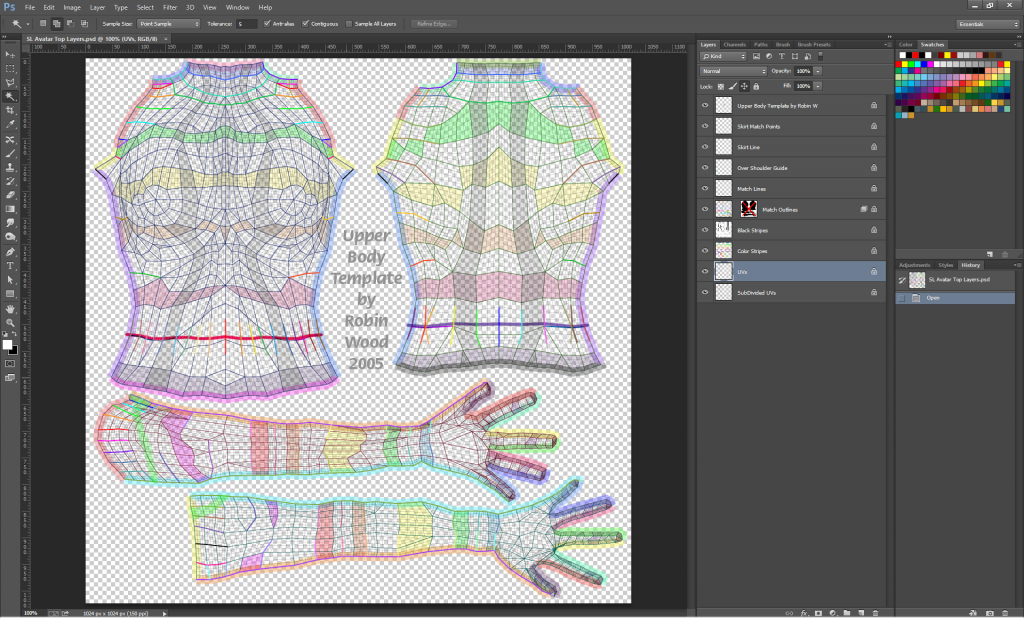 Open the file: SL Top Layers.psd. Save As PNG file, and upload to Second Life.
Create the Garment in Second Life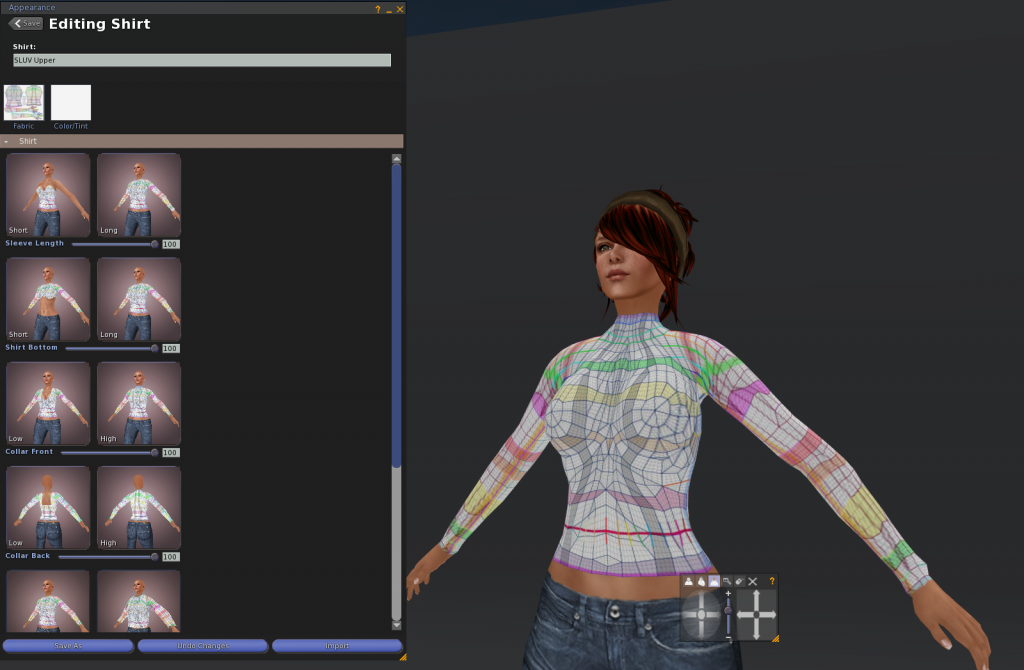 Inventory, right click folder where you want it,
New Clothes, New Shirt, Name it, Wear it, Edit it.
Apply the SLUV PNG file you just saved, and adjust the settings as shown.
Save.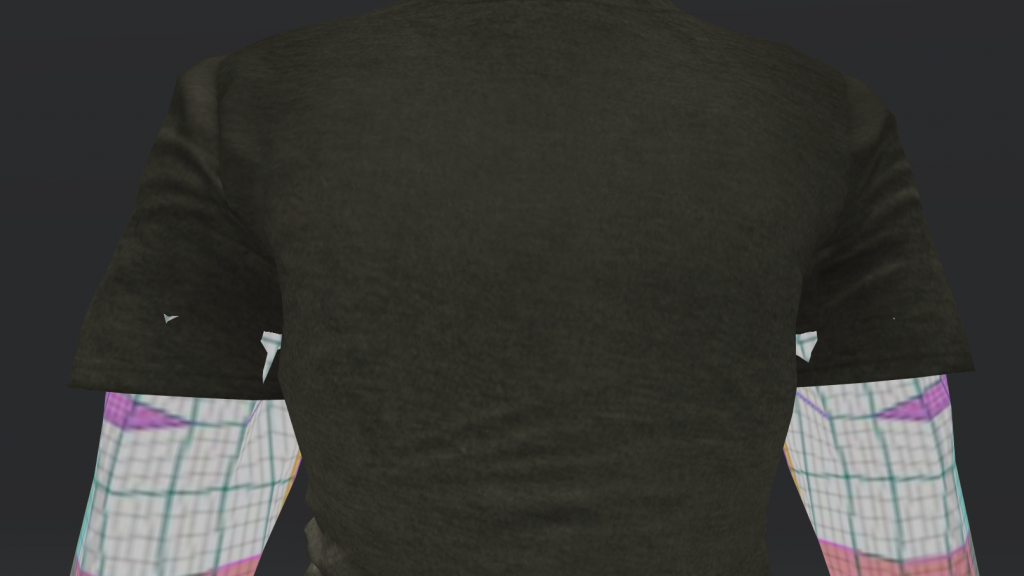 Wear the Alpha Mask and the Mesh Garments.
Zoom in and notice the lines along the bottom of the sleeve.
Trim away the alpha mask to just a little above that line.
Combine the textures for the Alpha Mask and the SLUV into 1 file.
We need to overlay the alpha mask with the SLUV map so you know where to trim.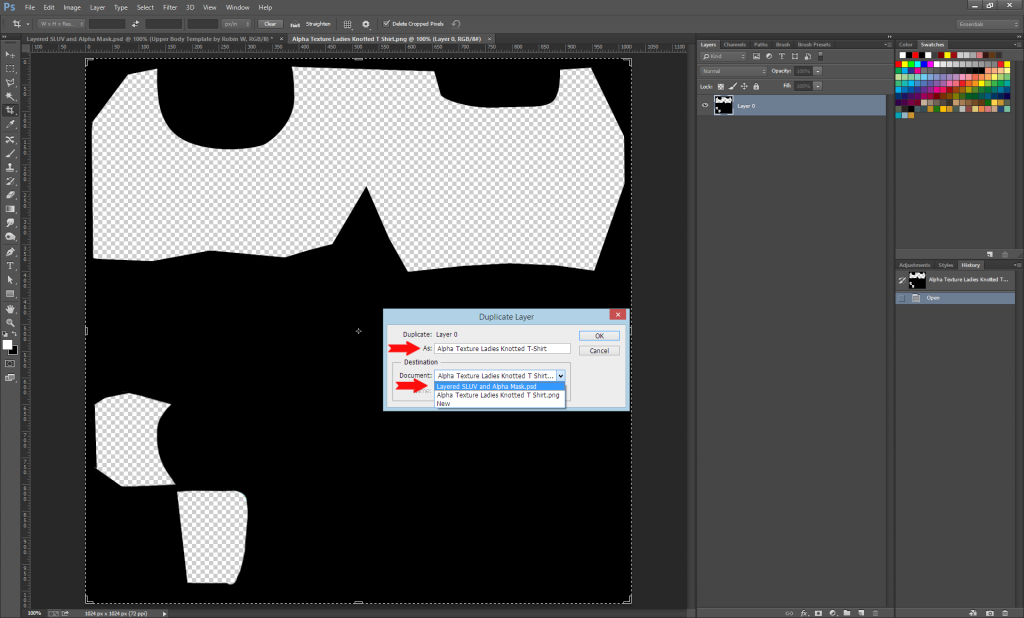 1. Save SL Avatar Top Layers.psd as Layered SLUV and Alpha Mask.psd
2. Select any Layer, and Merge Visible.
3. Open the Alpha Mask File, Duplicate Layer 0 to Layered SLUV and Alpha Mask.psd
  Draw Modifications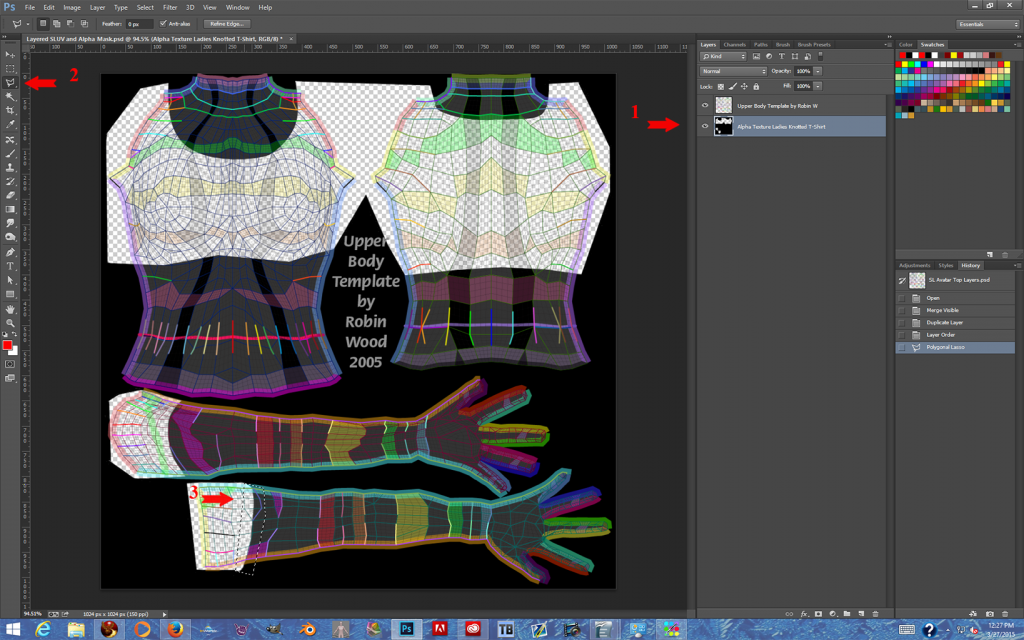 1. With the Alpha Texture layer selected, but the SLUV layer still visible to use as a guide
2. use the Polygonal Lasso Tool
3. to select the area on the sleeve that you want to trim away. Delete.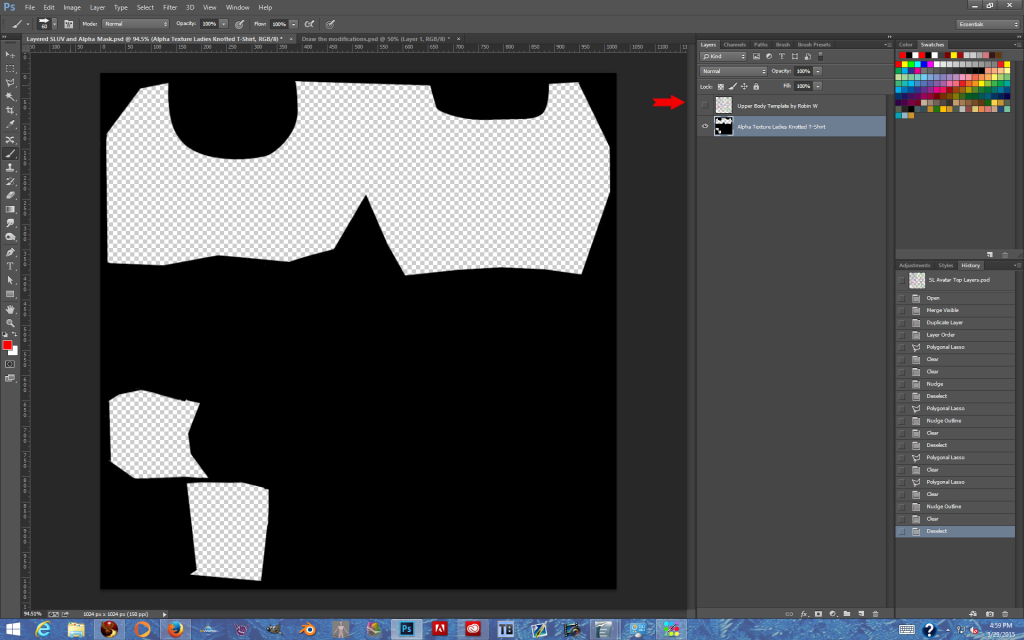 Hide the SLUV Map layer, Save As PNG, Test in Second Life.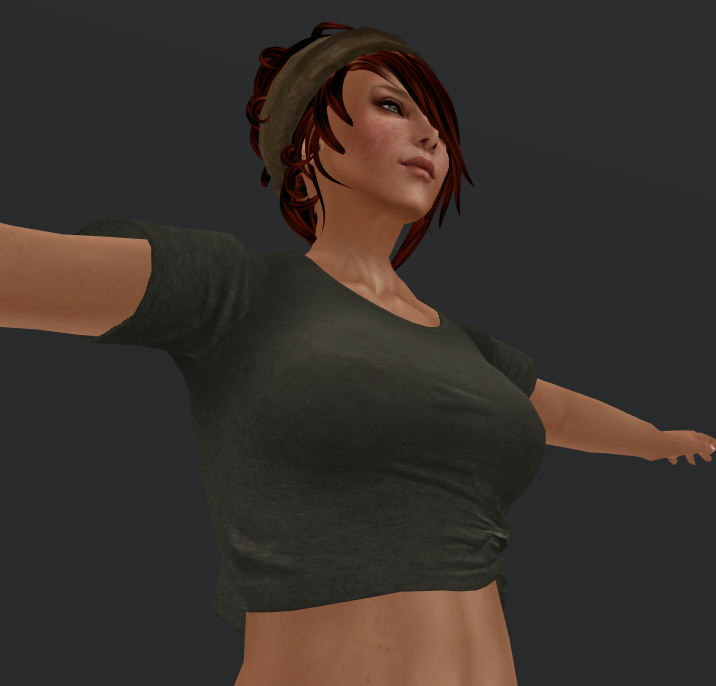 The finished look.