There really is no such thing as a mirror in Second Life.  Not the way we think of them.  However, Oracolo Janus discovered a way to use reflection settings for Linden Water to create a very nice mirror effect for photography.  Let me emphasize, we will be using Linden Water, so you MUST see it in Linden Water.   In other words, you aren't going to shoot any mirror photos from your skybox.
That said, you can have a lot of fun shooting mirror images even if you don't own waterfront property. Simply resolve yourself to visiting a sand box sim for some photo shoots.   The set up is quite easy to create, and you can save your presets for quick future use.

Set your Preferences
Set your graphics preferences before you work on the environment settings so you will be able to see the mirror effect in the water as it begins to happen. Be forewarned, these settings may tax your video card to the max but you can save your presets then activate it when you're ready to do a photo shoot, and turn it back off when you're done.  (You might want to save your preferences before making any changes to make that easier!)

Ctrl P to open the Preferences window.
On the Graphics Tab, set your Shaders as shown, paying particular attention to Water Reflections. Reducing your Draw Distance will help take some of the load off your video card if you do have trouble with these settings.
(Images are from Firestorm, the Phoenix release. Your viewer may differ, but will be similar.)
Save the Presets with a name referring to Water Mirror.
Now's the time to head over to some Linden Water.  Wade or swim out just a bit from the shore.
 Water Settings
You will need a new Normal Map that is clear of shadows for the water.  Right click the image below and save to your computer – be sure you know where it is saved!  Upload to your inventory.
Create a new Water Preset
World
Environment Editor
Water Presets
New Preset
Fog and Wave Tab
Set the Water Normal Map, using the Mirror Water texture.
Fog Density Exponent: 10
Reflection Tab:
Reflection Wavelet Scale – Zero Settings for X, Y, and Z.
Fresnel Scale:  Zero – You'll start to see some reflection!
Fresnel Offset adjusts the brightness of the reflection.  Adjust to your personal preference.
Tick the box to 'Make this preset my new water setting" and Save.
I'll use this setting for a photo shoot for a vendor picture for this new swimsuit.
I created a pose ball with a sit that would look nice sitting at the edge of the water. (I see now this isn't the best sit for this avatar, her nails are poking through her arms.)
Rez the pose ball and sit on it. Edit the ball.
Move the pose ball to position your avatar.
Add a backdrop.  I rezzed my photo studio backdrop and adjusted the size and position to work with the land.  I'll look for a better sit animation and redo the photo shoot and I'll have a nice vendor pic.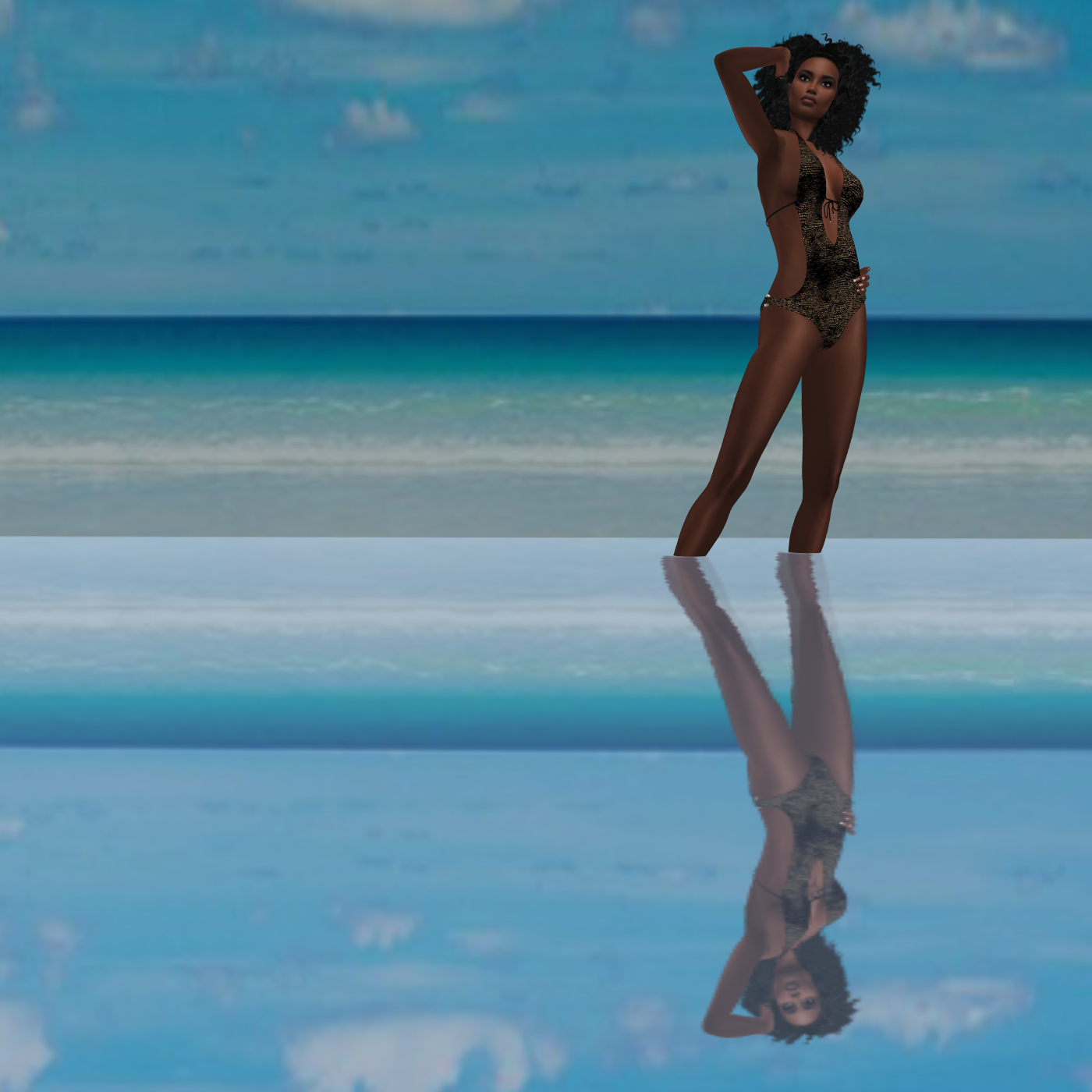 Save
Save
Save
Save
Save
Save
Save
Save
Save
Save
Save
Save
Save
Save
Save
Save
Save
Save
Save
Save